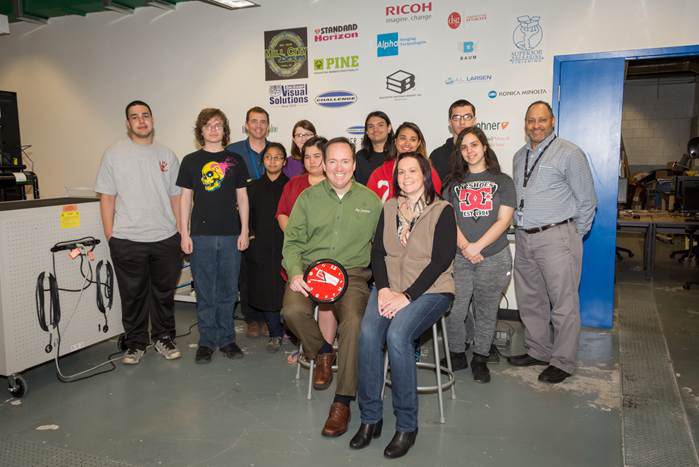 $2500 towards a Dye Sublimation Printer was donated to Greater Lowell Regional Technical High School by the hometown company, which was then used to create Bronze medal winning entry at the National Skills Competition.
Underscoring their efforts to be a good community partner, and to help groom the next generation of graphic arts and commercial printing professionals, DS Graphics recently donated $2500 towards a new Dye Sublimation printer for Greater Lowell Regional Technical High School and their vocational program.
High school students at GLRTHS who aspire to professions in the printing industry now have access to cutting-edge, industry-standard equipment, and used the new printer to create submissions for a National Skills Competition -- where they placed third and took home a bronze medal.
On May 5th, DS Graphics owner Justin Palls and Creative Director Erin Pellegrini met with students and program director Butch Dion for a tour of their facility and to learn more about the program and projects.
"DS Graphics is proud to support our area's Vocational school students. We are excited to help them understand how viable the present day Graphics Arts industry is. Our partnership with the local schools is a great way for these students to see what a rewarding experience this career choice can be."
Longtime PINE member DS Graphics has put its money where its mouth is time and again by recognizing needs within the community and taking social responsibility to the corporate level. In addition to donating to programs like the one at GLRTHS, DSG is also regularly involved in fundraising for the Cystic Fibrosis Foundation Pan Mass Challenge (PMC) which benefits Dana Farber.