Even though we were honored to win a Benny award for our calendar in 2015, DS Graphics is not an organization known for resting on our laurels. As soon as the celebrations wound down, it was time to get back to work: How were we going to step it up for next year following such a successful design?
It was time to keep iterating and innovating, as always. And now we get to give you a close-up look at our annual calendar design, which also just won Pinnacle Awards from PINE in both the Self Promotion and Special Innovation categories!

The annual DSG calendar has always been one of our favorite projects, the way we've traditionally showcased our strengths as a company for our customers each year. It's been a way for us to combine a thank-you gift with a reminder of the quality of work we offer in design, print, and finishing. But as we've grown as a digital company, continually adding new suites of services that go beyond traditional commercial printing, the calendar has become challenging in one very important regard: How do we showcase our digital specialties, as well? Past iterations of the calendar included online giveaways and email campaigns, but we wanted something more interactive. It was time to augment reality. And the PINE judges recognized the impact:
Using the question of 'What would keep me up at night if I were the printer?' to guide their decision making, they saw the real value in our annual calendar as a best-in-class campaign.

"A self-promotional piece does that, putting all your time and effort into it not making money on it – so it better be good," the PINE judges said. "It's your salesperson and mission statement, so it better put your best foot forward. This piece does it all. It's a calendar disguised as a promo piece disguised as special effects – very well done!"
Over the course of 2015-2016, we learned a lot about augmented reality (AR), using it in projects here and there for tradeshows and house campaigns as well as special projects for our customers. We were inspired and confident we could make it work as a central feature in the next calendar, but it would take some real doing. Here's how we did it.

Motion Pictures
A simulation of the AR experience
We always hunt down the best-quality photos for our annual calendar, but now we have an added challenge: finding scenes we could animate in interesting and engaging ways. For weeks, we deliberated and were dedicated to blending stock footage with some creative effects of our own to finish with composites that look believably lifelike and unexpected for each month. Early ideas included snow falling over a winter scene, or a flock of birds flying across the page. The 19 photos (18 months + 1 front cover) featured in our 2016-2017 calendar leant themselves to just such a seamless experience.
Through our award-winning AR calendar, customers view each month by scanning the calendar page with the Layar app in order to show the image coming to life with animation and video compositing, showcasing just some of the capabilities of augmented reality campaigns. Now that our concept was clear came the tricky part: the messaging.

Making it Known
In order for AR to be successful, customers have to know it's there and take the steps to download the Layar app to scan the AR-enhanced images, but without littering the design with calls-to-action. Conveying the messages of "why this is worth it" and "here's how to do it" without impacting the images and layout was a tough balance to maintain.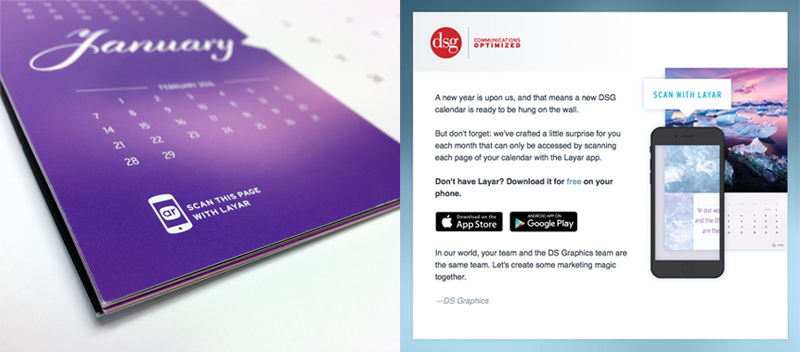 The CTA appears at the bottom of each page (left), and a reminder is sent out via email (right).
We landed on four solutions of varying subtlety. First, we titled it our "Animated Calendar," hinting at the digital component. Second was a straight call-to-action with instructions on a belly band wrapped around the calendar combined with a letter included in the package. Next, a small "Scan with Layar" icon was placed on each page. And lastly, we sent out an email reminder with a call-to-action for the app download with direct links for those who may have missed or forgotten about the functionality.

So, did it work?
In addition to the accolades from PINE's Pinnacle Awards, the engagement numbers speak for themselves: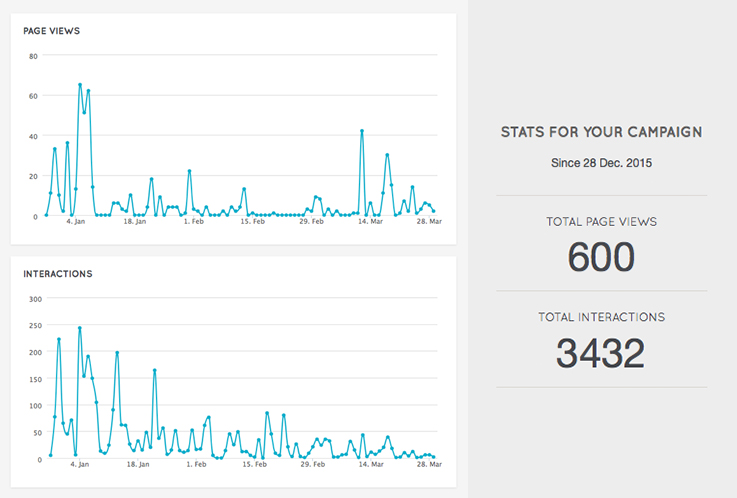 Let's take a look at the numbers so far. For the 800 calendars that were sent out at the end of December last year, we have seen 600 scans and a whopping 3,432 videos viewed. That's a 75% response rate in our first quarter alone!

See for Yourself
You don't need the physical calendar in order to check out the AR features! Just click on the images below and scan them using the (free!) DS Vision app on your phone to try it out for yourself.
And let us know what you think! Email sales@dsgraphics.com to give us feedback on the AR experience or to get a quote about using AR in your next project.